RISK-FREE TRIAL: Not sure if the product is too soft or too hard for your child? We offer a risk-free trial to help you find the right chew necklace for your child's needs. Simply contact us for a full refund if the product is not the right fit. No return necessary.

HELPFUL FOR AUTISM, ADHD, AND SENSORY NEEDS: Our necklaces feature carefully designed shapes and textures to meet sensory needs!

PACK OF 5: This pack includes FOUR differently colored chewable necklaces and ONE pencil topper. Not too hard and not too soft, all necklaces come in medium hardness for the perfect feel! NOW MADE WITH AN IMPROVED, TOUGHER FORMULA FOR LONGER-LASTING CHEWS!

100% SAFE AND NON-TOXIC: Our necklaces are safe for children and free of toxins such as lead, latex, BPA, PVC, and phthalates. Each necklace also features an adjustable breakaway clasp for added safety.

EASY TO CLEAN: A simple rinse under water effectively removes any residue, making the necklaces ultra-sanitary and hygienic.

IMPROVED DURABILITY: Unlike other leading brands, our necklaces are designed to last.
Benefits Of Our Chew Necklaces
Sensory Stimulating & Soothing!

Reach Developmental Milestones

Made From 100% Non Toxic, Safe & FDA Compliant Food Grade Silicone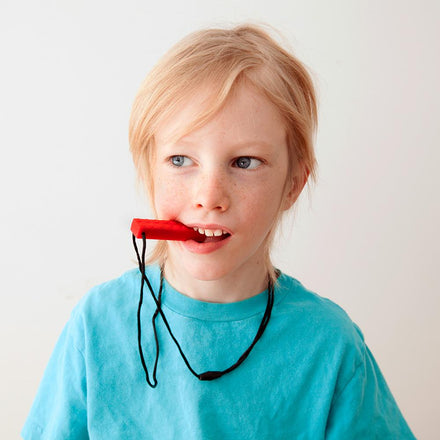 Why Chew Necklaces?
Did you know the mouth is one of the most sensory parts of the body? This also makes it the most effective way to regulate our behavior, and the behavior of our children with sensory processing issues. Sensory tools such as chewable necklaces are effective for children who are orally defensive and fussy eaters.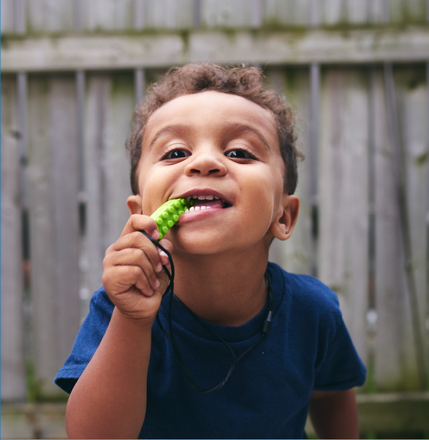 Chew & Teethe in Peace!
All Senso Minds chew products have been tested and are completely safe for children and free of any toxins such as lead, latex, BPA, PVC, and phthalates.